Vendredi 10 Novembre, j'ai eu l'occasion d'assister au concert de
Peter Kernel & Their Wicked Orchestra
. Initialement constitué du couple que forment
Barbara Lehnhoff
et
Aris Bassetti
, le projet
Peter Kernel
témoigne une affection certaine pour les ambiances lorgnant vers un rock dynamique.
Depuis une paire d'années, c'est sous l'appellation
Peter Kernel & Their Wicked Orchestra
qu'ils se produisent. Sur scène, les deux fondateurs du projet occupent le milieu et l'avant de la scène, disposant chacun d'un micro pour leurs voix et de quelques caisses, éléments d'une batterie en kit. Derrière eux s'invitent quatre musiciens additionnels – le fameux
Wicked Orchestra
– où une violoncelliste reste fidèle à son instrument, tandis que la harpiste ne délaisse le sien qu'occasionnellement et que les deux autres artistes alternent entre chœurs, violon, piano et arrangements synthétiques.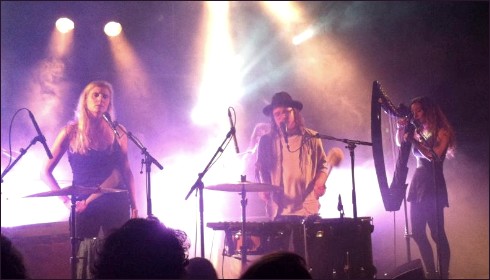 Aris Bassetti
ironisera en précisant qu'ils avaient initialement lancé ce projet pour
« ne pas se mouiller »
. Comprendre, ne pas transpirer. Avec des morceaux aussi entraînants et hantés qu'un
Again, We Are Not Gonna Be The Same Again
joué en début de set ou un
Panico ! This Is Love
aux deux tiers de la performance, c'est raté.
Le premier nommé évolue entre pop et néoclassique. Ceux qui ne sont pas habitués aux envolées vocales a capella ou aux déluges d'instruments classiques prendront leurs jambes à leur cou, mais l'aspect mélodique qui réside néanmoins sur ce titre néanmoins accessible constitue une belle porte d'entrée vers leur univers hypnotique et captivant.
Les Suisso-Canadiens ne s'économisent pas sur scène et les arrangements de cordes harmonieux qui accompagnent des compositions solides aux progressions pleines de surprises et de contre-pieds tendent à rappeler
Thee Silver Mount Zion
. Sur scène, la qualité des arrangements sonores est réelle, et s'apprécie notamment sur un solo de harpe où le son oscille d'un bout à l'autre de la salle dans une expérimentation aussi étonnante que prenante. Envoûtant et immersif, donc.